Our esteemed client has the German edition of his bestseller book 'Gap Selling' just seen published on the market in Germany.
The team at our specialist division AVALON | Books | takes pride in having been entrusted with the translation project, working from the English original.
The preface to the German book also makes reference to our professional involvement.
Jim Keenan, CEO and president of sales consulting firm A Sales Guy Inc., is the acclaimed author of the book 'Not Taught: What It Takes to be Successful in the 21st Century That Nobody's Teaching You'.
He was named one of the top 30 social media sellers in the world by Forbes, and one of the Top 50 Most Influential Sales and Marketing People by Top Sales World Magazine every year running, since 2012. He has also been cited in the Harvard Business Journal, Huffington Post, Entrepreneur Magazine and Inc.
The first edition of Keenan's book 'Gap Selling' was published in 2018 in the United States. The book and concept were since only available in English but now the author's unique know-how with his amazingly effective approach to sales is also coming to German speakers.
In his trademark blunt style, the author gets to the heart of the buying process.
From customer relations to closing, from overcoming objections to price negotiation, he debunks the tired old sales myths, beliefs and outdated sales tactics that are at the root of today's frustrating sales problems.
Accordingly, for years and decades, salespeople and sales organisations have habitually applied a variety of sales tactics and beliefs that unwittingly give rise to many of the problems they were trying to avoid in the first place, such as long sales cycles, price objections, procrastinating customers, and so much more.
If you are involved in sales of any kind yourself, here you can learn the Keenan way of how to finally become faster, more predictable, more successful and more profitable through gap selling. It's supposed to fundamentally change everything – including your results.
Wishing all readers and the author every continued success.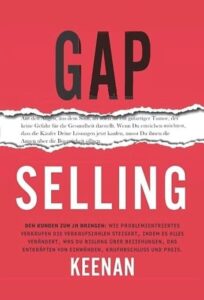 ©2022 
Gap Selling
Den Kunden zum Ja bringen
ISBN-10: 1732891044 / ISBN-13: 978-1732891043
A Sales Guy Publishing