The Royal Australian Navy needed to recruit 40 Navy Cryptologic Linguists, a priority role whose primary duty is to intercept and translate foreign languages.
To generate recruitment buzz, last year they launched a digital campaign that highlighted the need for human translators.
Thus they began to enlist the help of Artificial Intelligence, the very technology most job seekers are fearful of replacing human roles. While A.I. can play a big role in the modern workforce, as we all know, and not really surprisingly, it doesn't always get it right when it comes to language translations.
The Navy demonstrated this by putting A.I. to the test, getting it to translate well-known phrases, quotes, stories, and music lyrics between languages. They then took the mistakes made and highlighted them in an advertising campaign, reinforcing that there is no room for error as a Cryptologic Linguist.
Below here are pictures of typical examples, plus a little video that the Defence Department had uploaded on YouTube, poking fun at Google Translate by running iconic Beyoncé song lyrics through the app, followed by a call to action.
Recruitment videos were also created for the Department's social media accounts (e.g., Facebook, Instagram) and reportedly used familiar song lyrics and movie quotes, translating them into multiple languages.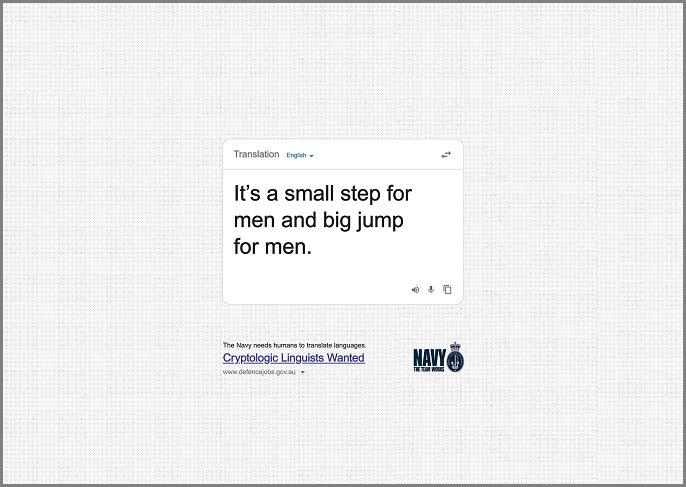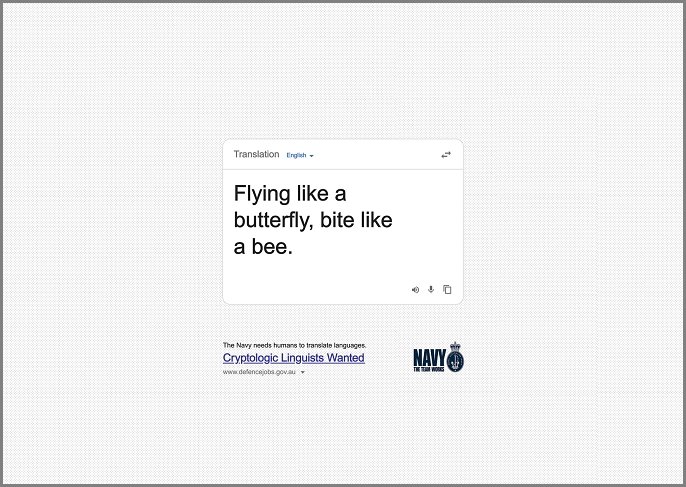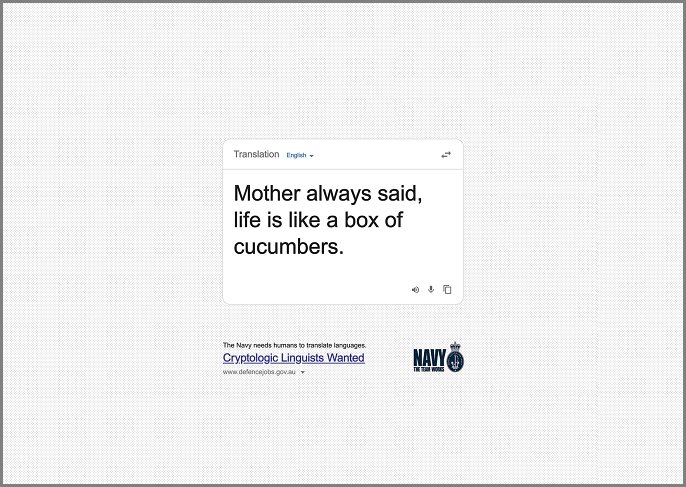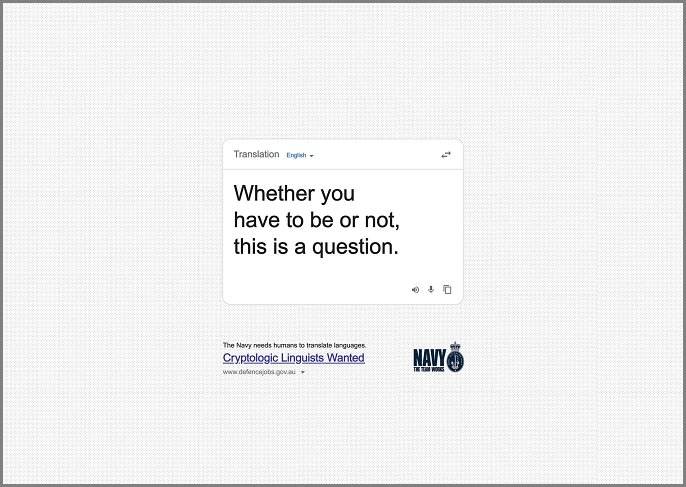 Recruits for the role will begin as Cryptologic Operators stationed with major fleet units, fleet headquarters, or other strategic environments. Upon mastering fundamental skills, they can step into a specialist role as Linguist. As soon as they complete training, Cryptologic Linguists will receive a yearly compensation of, at least, AUD 85,154 (USD 61,000) plus a "generous superannuation."
"The Navy wants people with good listening skills and high emotional intelligence who want to put their problem solving and analytical talents to good use," Commander Lucinda Casey, Director Navy Recruiting and Entries, said about the role.
In the 2-month campaign period, traffic to the dedicated job page was up 72%, and applications increased by 1,140% year on year with 248 applications, so it worked well for the Defence Department.